Covid-19 Announcement: Following the Government instructions "Life Care's branch in Auckland, Raglan, Te Kauwhata, Huntly, Ngaruwhahia, Te Kowhai, Whatawhata an Hamilton City are now in Alert Level 3. There will be no First Aid Training in these areas until Alert level 2. If you have a booking on a First Aid course one of our Team will contact you. If you need assistance please contact us on 0800 493 559".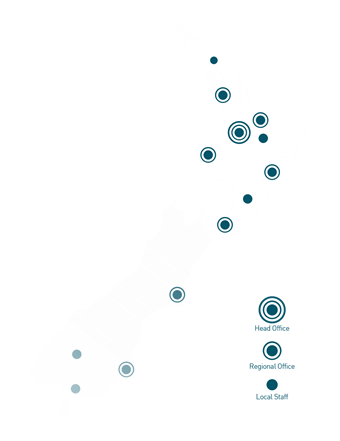 Auckland
Tauranga
Hamilton
Napier
New Plymouth
Wellington
Christchurch
Dunedin
Protect Your People
Keep your employees healthy all year round AND REDUCE SICK DAYS!
Your staff hold the key to the success of the business, so it's of vital importance to make sure they are healthy and that you have put all the steps in place to ensure they remain that way.
Upskill Your People
Would your staff know WHAT TO DO IN AN EMERGENCY?
It's only a matter of time before some type of emergency occurs in your workplace. With that in mind its vital to give your team the necessary skills to know what to do when the time comes.
Contact us to arrange a consultation of your health, safety and training processes to uncover areas of improvement and discuss what we can do for you.
WHAT OUR CLIENTS HAVE TO SAY!
"Gina was excellent! She made everyone feel comfortable and we learnt so much more from her then we have from other providers (trainers) we have utilized in the past. Gina is very passionate about what she does and it showed. It also helped that she has experience in the nursing field and could give personal knowledge to her training."
MIRIAMA, TE PUIA ROTORUA
"I had the privilege of attending a first aid training session run by Kyle, at the NZ Kennel Club office last week. It was just great, and on my way home (back to Fielding!) I was just behind a fatal car accident – there were already plenty of helpers on the scene but I know having just come from the course I could have helped if needed. Just shows it can happen any time right!? "
DR BECKY MURPHY BVSC BSC DIRECTOR, VETERINARIAN TCI VETERINARY SERVICES LTD
"I really enjoyed your presentation today at the Gisborne District Council. It was very informative and your engagement with the audience was fantastic. Mental illness is something a lot of people in New Zealand have some form of personal experience with. Thank you for taking the time to spread awareness."
Bevan Blunden, Gisborne District Council
"Just wanted to let you know that Wendy was the best Trainer we have ever had. We all learnt so much that we had never learnt before. Also, the way that Wendy delivered the training made us all think and participate heaps. She asked us for the answers first, to reinforce what we should already know before sharing her thoughts, drew great diagrams for visual people and explained everything very clearly. Quite a few people were heard to say – thanks, we have never been told that before. I would definitely recommend her for anyone else being trained."
VECTOR LTD
"I got around our teams today and had a chat about how they experienced our recent Mental Health training session. Everyone I spoke to were all really effusive with their praise for you. They said the learning was really well balanced in terms of presentation and activities and they enjoyed the small group work. They felt the material was handled well, especially given the gravitas of some of the content and felt it was pitched in the right way. The whole team appreciated the obvious expertise you have."
Glen, Trustpower